Current firmware

Car DVR TrendVision MR-700GP is designed as a lining on the staffing side mirror. This design is increasingly popular among car owners. Her feature - the stealth installation. TrendVision presents a new series DVRs mirrors. In developing the new series took into account the comments and wishes of users of the previous model TrendVision TV-103, which is very popular with motorists.
The MR-700GP uses a powerful processor, a sensitive sensor and fast lens. The maximum recording resolution 1920h1080p 30 frames per second. Wide dynamic range HDR allows you to get a very high-quality video even in high-contrast scenes or in low light.
Removable polarizing filter (in the version of MR-700P and MR-700GP) eliminates the glare from the windshield.

Completely new building designed by experts TrendVision and has no analogues. Features:. Thickness of only 14mm, the increased stiffness, Dipping mirror coating, easy mounting, large screen 4.3 ", two slots for memory cards, the connection of additional reverse analog camera, convenient buttons with automatically switchable backlight When the monitor is off (automatic adjustment) registrar like the usual panoramic cover.

TrendVision MR-700 has advanced software. Also mandatory for DVR functions such as automatic switching on and off, loop recording, the MR-700 has many additional. Separate resolution settings and exposure for day and night time. Saving the movie from being erased by pressing the button or G-sensor. Motion Sensor. Fast sound recorder off by pressing the button. Copying movies on a card card - "copy for the record." Digital zoom during playback allows you to see fine detail on the screen. Automatic shutdown of the monitor and the button illumination. Overlay date stamp video, time, coordinates, speed, and vehicle license plate. Powerful speaker function allows voice alert logger modes.
Features of the new building TrendVision MR-700GP
The mirror surface is coated with antiosleplyayuschim
Ultra-thin body thickness of only 14mm
Easy mounting with rubber grip with an adjustable height
Power connectors, remote camera, HDMI and AV are recessed into the housing
Huge by the standards of the DVR, unplug the monitor 4.3 "
Rotating the camera in all planes
Hidden buttons
Automatically switchable backlight buttons
Two slots for memory cards microSD and SD, located below
Includes removable polarizing filter and external GPS-receiver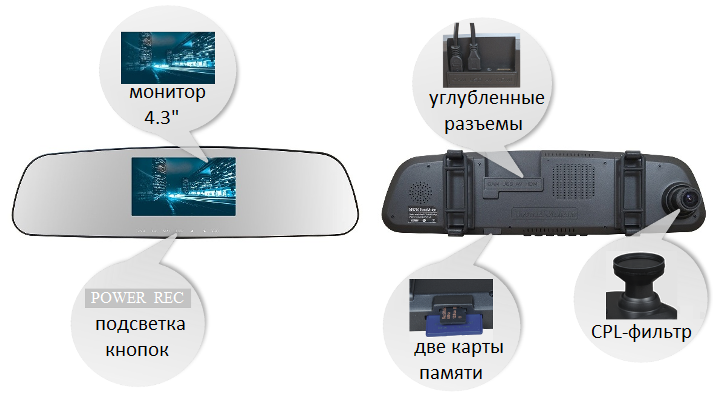 Features TrendVision MR-700GP
| | |
| --- | --- |
| | Recording Resolution Full HD 30FPS, 1920x1080 30fps. |
| | HDR (high dynamic range). Implemented by hardware sensor means. In this mode, the addition of 2 shots with different exposures. Hardware HDR allows you to 1920x1080 wider dynamic range than with software WDR. |
| | Processor Ambarella A7LA30. Powerful video processor. Capable of processing a video stream with a resolution of 1920x1080 30fps / s. High bit rate. Software image-enhancement methods. Additional functions. |
| | The sensor OmniVision OV4689. CMOS 1/3 ", 4MP sensor 2014 Best Feature -.. Used hardware implementation of dynamic range expansion by adding 2 shots with different exposures (HDR) mode of 1920x1080. |
| | Quality Glass Lens F = 1.8. It consists of a 6-lens + IR filter. viewing Angle 160 ° (diagonal), 115 ° (horizontal). |
| | RAM 2GB DDR3. In conditions of high bitrate fast and large memory allows stably transmit data streams from the processor to the memory card. |
| | Two slots for memory cards. SD and microSD are located at the bottom of the housing. Support exFat and 128GB card file system. 24 hours of recording in high quality. It is expected the emergence of 256GB and 512GB memory cards. The ability to quickly copy the video files from the card to the card for "copy for the record." |
| | Large widescreen 4.3 ". Setting the automatic shut-off. No problem, you can view a record, especially when using the program function playback zoom. The ability to connect an additional analog rear-view camera for reversing. |
| | Removable Polarizing CPL-Filter 37mm. Polarizing filter to reduce unwanted reflections from the windshield on a sunny day, significantly improving video quality. |
| | Two battery. Built-in Li-Po battery 300 mA / h, about 10 minutes of battery life (when the monitor is turned off). Optional frost-hour battery for the generator keeps the date and time when the discharge (or failure) of the main battery within a few days. |
| | GPS receiver as a unit with the through rendered meals. Writing speed coordinates movement route. Equipped with a miniature battery to keep the satellite almanac when power is off. This speeds up the GPS startup process for short turn off the power. |
| | Connector for reversing an analog camera (camera sold separately). When the image appears on the reverse camera monitor recorder is automatically turned on (if it was off), and displays the image from the reversing camera. |
| | Powerful speaker 2Bt allows you to clearly and loudly play sound tips on DVR operation. Adjustable volume via the menu. |
Full specification TrendVision MR-700GP can be viewed on the official website.
Cine TrendVision MR-700GP
Video Example TrendVision MR-700GP
Resolution Full HD 1920x1080, wide dynamic range mode (HDR).
Video quality in this mode TrenVision MR-700GP and MR-710GP identical.
TrendVision MR-700GP: unboxing, completing and connecting the DVR
Firmware
Car DVR TrendVision MR-700GP and MR-700 are implemented in the new video processor Ambarella A7LA30. It is a powerful processor that can provide a variety of additional features. As you explore the possibilities of this platform, firmware is improved, new features are added.
Current firmware: VER201503201821G-R (.zip, 14.9МБ)